Grades 6-8
Middle School
The middle school years are a journey from childhood to adolescence as students gain more independence, take on a greater sense of responsibility for their own learning, and develop their individual identities. This time of exploration begins in sixth grade with the move from a single homeroom to advisory groups and multiple classes in a growing number of disciplines which include math, science, history, English, and world language.
Through this process of learning and discovery, they find what they're passionate about, what they're interested in, and what avenues they may want to pursue in the future. By eighth grade, they have developed into independent learners, individuals with a strong sense of identity, who feel empowered to make a difference in their communities.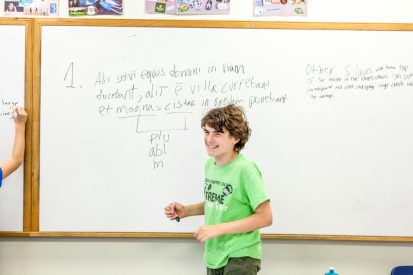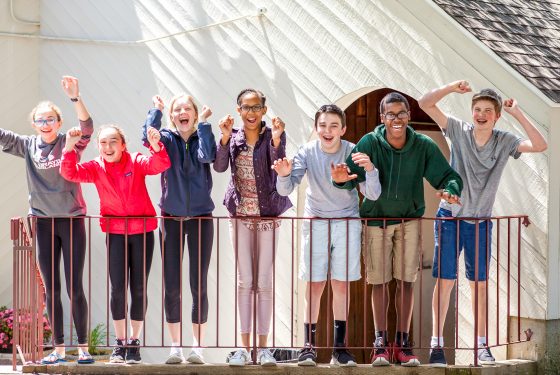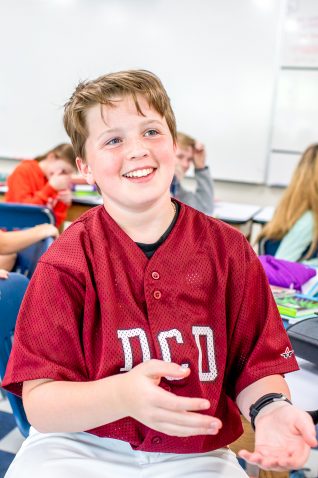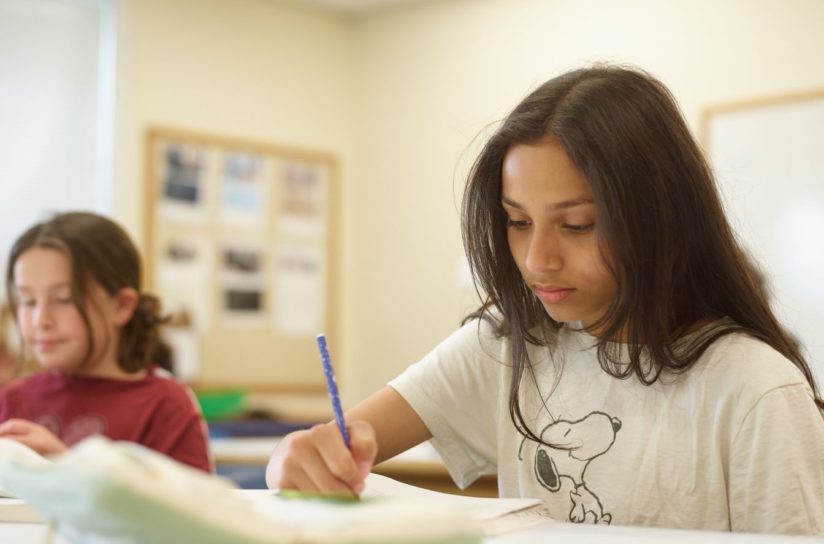 The sixth-grade year at DCD is a time for new classes and schedules, exploration, new choices, and high expectations. As newcomers in middle school, students must tackle the challenges and responsibilities of the sixth-grade academic program while they cope with issues characteristic of early adolescence. Students work to develop and reinforce strong study habits and organizational skills crucial for their success in the middle-school years and beyond. Class meetings and the advisory program offer opportunities to build on social and emotional learning, address issues, and make meaningful contributions to communal endeavors.
Advisory time in the 6th grade is a meaningful addition to our students' daily schedule. It takes the place of the traditional homeroom time they experienced in the lower school. Beyond discussing school logistics, advisory time is important for relationship building among students and between student and teacher.
In the "consensus" project, a signature 6th-grade advisory exercise, students have to work through a hypothetical dilemma where they are stranded on a desert island and must decide their course of action and the resources they must take with them given a set of difficult constraints. The group must come to a consensus rather than rely on the simplicity of a majority vote. Through this exercise, they learn to listen to differing opinions, develop arguments with rationale, and learn to work together to bring dissenters together. And of course, grapple with a stalemate!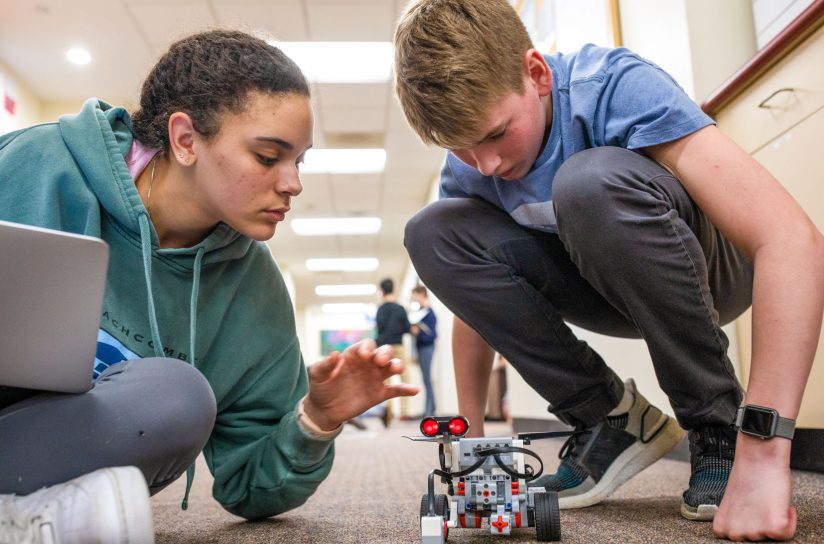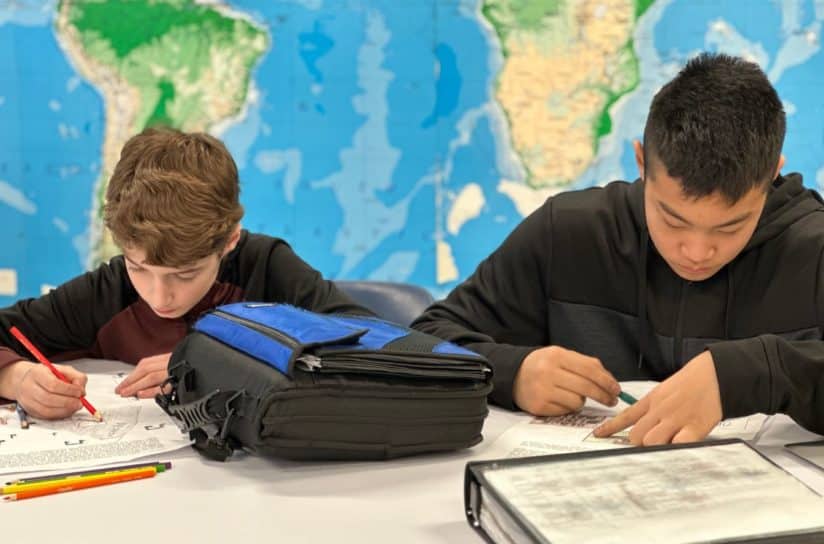 The seventh-grade year at DCD is a pivotal one as students are no longer the newcomers in middle school. They take on more advanced work in all subject areas, beginning their study of algebra and choosing between Latin and Spanish for their world language focus. Expectations are high, and students must continue to develop good study habits and organizational skills to meet the challenges of this balanced program. In addition to serving as role models for their 6th-grade peers, their service-learning experience expands to taking responsibility for handling the recycling for the entire campus. Class trips and advisory activities further strengthen their sense of being part of and contributing to a larger community.
Early American history during the period of English colonization provides the backdrop for participating in a formal debate by DCD 7th graders. Considering laws set forth by members of our country's first legislative assembly of elected representatives, the Virginia House of Burgesses, in its first session in Jamestown, Virginia, in 1619, students grappled with the competing goals of maintaining productive and peaceful relationships with the Native Americans who occupied the land first and building a prosperous and economically viable new settlement for England.
Working in teams, students debated the laws of 'No injury or oppression shall be committed by the English upon the Indians' and 'each English plantation shall be responsible for the education of a certain number of Indian children. In preparation for the debate, students learned the building blocks of a strong argument – setting forth the assertion, developing reasoning, and providing strong evidence. Armed with their research and analyses, students argue the merits and drawbacks of these important initial laws of our country. In the process, they consider deeper issues of cross-cultural encounters, social responsibility, and economic viability.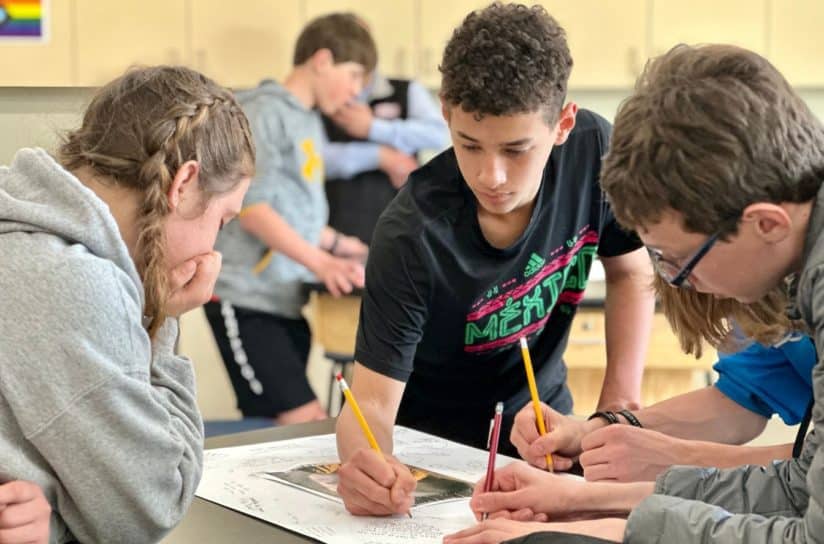 The eighth-grade year is a challenging and powerful experience for students at DCD. Demanding academics are blended with an advisory program that nurtures personal growth and self-awareness. Students are expected to work hard in order to master a wide range of academic material in their classes, and they are likewise expected to bring a consistent focus to the formation of personal identity as an ethical, involved member of our community. As the oldest students in the school, there are many leadership opportunities to seize from being a buddy to a kindergarten child, serving as a sports team captain or an admissions ambassador, or just being a role model for their younger peers. Students begin the search for new schools and participate in a program called "Smooth Talk," which not only helps them prepare for the interview process but also serves to refine their ideas about themselves, their passions, and their values.
In the spring term, eighth-graders take part in the Facing History course, a national curriculum that uses the Holocaust as a backdrop for exploring issues of prejudice and identity, the implications of decision making, and the impact of group dynamics. This class forms the capstone of their DCD experience and reinforces their sense of themselves and their actions as responsible citizens.
I'm a huge believer in the pre-K to 8 model, as it offers early adolescents a unique setting in which they can practice mastery and leadership in a supportive environment. They can take risks, free from undue pressure or judgement, in order to push the boundaries of their learning, their leadership, and their understanding of themselves.
At DCD, I developed an academic drive and I learned perseverance. I learned to fail and to pick myself up. If I didn't do well on a test or an essay, I met with my teachers who were always willing to work with me to understand what went wrong and to figure out how to prevent it from happening again. So when I went to high school, I automatically knew how to reach out to my teachers. I also learned that one grade won't break me and that failure is not the end of the world!
With all the choices at DCD and knowing that the community was always there to support me, I've had a lot of freedom to follow my passions and develop the ambition to try new ones.
The school provided an environment where our girls felt confident, where they had a voice, and their voices were valued.
Meet the Middle School Team
Extra Support for Reading and Writing
For students who would benefit from additional time spent on reading comprehension and writing, we offer a supportive program called Double English. Students are recommended for this program either by teachers or families and are enrolled in this class in place of world language beginning in grade 6. In Double English, students read daily and engage in writing activities, with a focus on planning and organizing writing. The reading list changes yearly, but novels are chosen with high student interest. An emphasis on vocabulary is key, and students learn Greek and Latin roots as well as vocabulary related to their reading. All reading is done in class and there is no homework. By grade 7, about half of the students enrolled in this special program will switch to the study of world language (Spanish or Latin) while others will remain in the Double English course through the end of middle school and begin world language study in grade 9. Please contact Dr. Beth Conners for more information.
DCD's Middle School: A Totally Immersive Experience