Grades 6-8
Middle School
The middle school years are a journey from childhood to adolescence as students gain more independence, take on a greater sense of responsibility for their own learning, and develop their individual identities. This time of exploration begins in sixth grade with the move from a single homeroom to advisory groups and multiple classes in a growing number of disciplines which include math, science, history, English, and world language.
Through this process of learning and discovery, they find what they're passionate about, what they're interested in, and what avenues they may want to pursue in the future. By eighth grade, they have developed into independent learners, individuals with a strong sense of identity, who feel empowered to make a difference in their communities.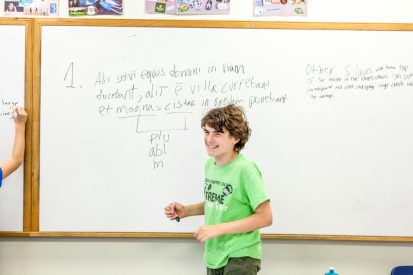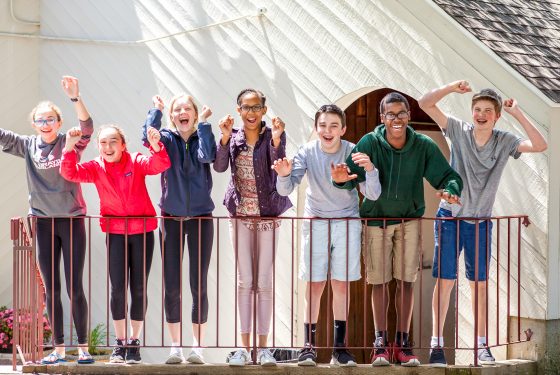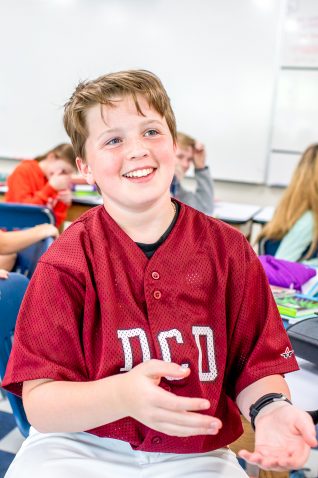 I'm a huge believer in the pre-K to 8 model, as it offers early adolescents a unique setting in which they can practice mastery and leadership in a supportive environment. They can take risks, free from undue pressure or judgement, in order to push the boundaries of their learning, their leadership, and their understanding of themselves.
At DCD, I developed an academic drive and I learned perseverance. I learned to fail and to pick myself up. If I didn't do well on a test or an essay, I met with my teachers who were always willing to work with me to understand what went wrong and to figure out how to prevent it from happening again. So when I went to high school, I automatically knew how to reach out to my teachers. I also learned that one grade won't break me and that failure is not the end of the world!
With all the choices at DCD and knowing that the community was always there to support me, I've had a lot of freedom to follow my passions and develop the ambition to try new ones.
The school provided an environment where our girls felt confident, where they had a voice, and their voices were valued.
Meet the Middle School Team
Extra Support for Reading and Writing
For students who would benefit from additional time spent on reading comprehension and writing, we offer a supportive program called Double English. Students are recommended for this program either by teachers or families and are enrolled in this class in place of world language beginning in grade 6. In Double English, students read daily and engage in writing activities, with a focus on planning and organizing writing. The reading list changes yearly, but novels are chosen with high student interest. An emphasis on vocabulary is key, and students learn Greek and Latin roots as well as vocabulary related to their reading. All reading is done in class and there is no homework. By grade 7, about half of the students enrolled in this special program will switch to the study of world language (Spanish or Latin) while others will remain in the Double English course through the end of middle school and begin world language study in grade 9. Please contact Dr. Beth Conners for more information.
DCD's Middle School: A Totally Immersive Experience