Through music education, students become fluent in the language of music as artistic, intellectual, and cultural expression.
The music education curriculum at DCD is integrated throughout all grade levels and gives children not only a foundation in how to technically, create, construct, and understand music, but also gives children another avenue to express their thoughts and feelings. Performing, creating, and responding to music provides a means for development and growth, deepening their expression of life experiences.
From pre-k to grade 1, a thematic approach to singing, movement, musical games, and songs forms the core of the curriculum. Early childhood songs, rhymes, singing, and movement activities are experiences critical to a child's development and are both sung and played on pitched and non-pitched instruments.
As children progress through the lower school, they use recorders, Orff instruments, and band/string instruments to explore traditional notation, reading skills, improvisation, and concepts of melody, rhythm, tempo, and dynamics. In addition to traditional repertoire, students have opportunities to create their own music through group composition and music technology, fostering cooperation and a sense of individual responsibility. Beginning in grade 4, students choose between chorus and band for their music curriculum.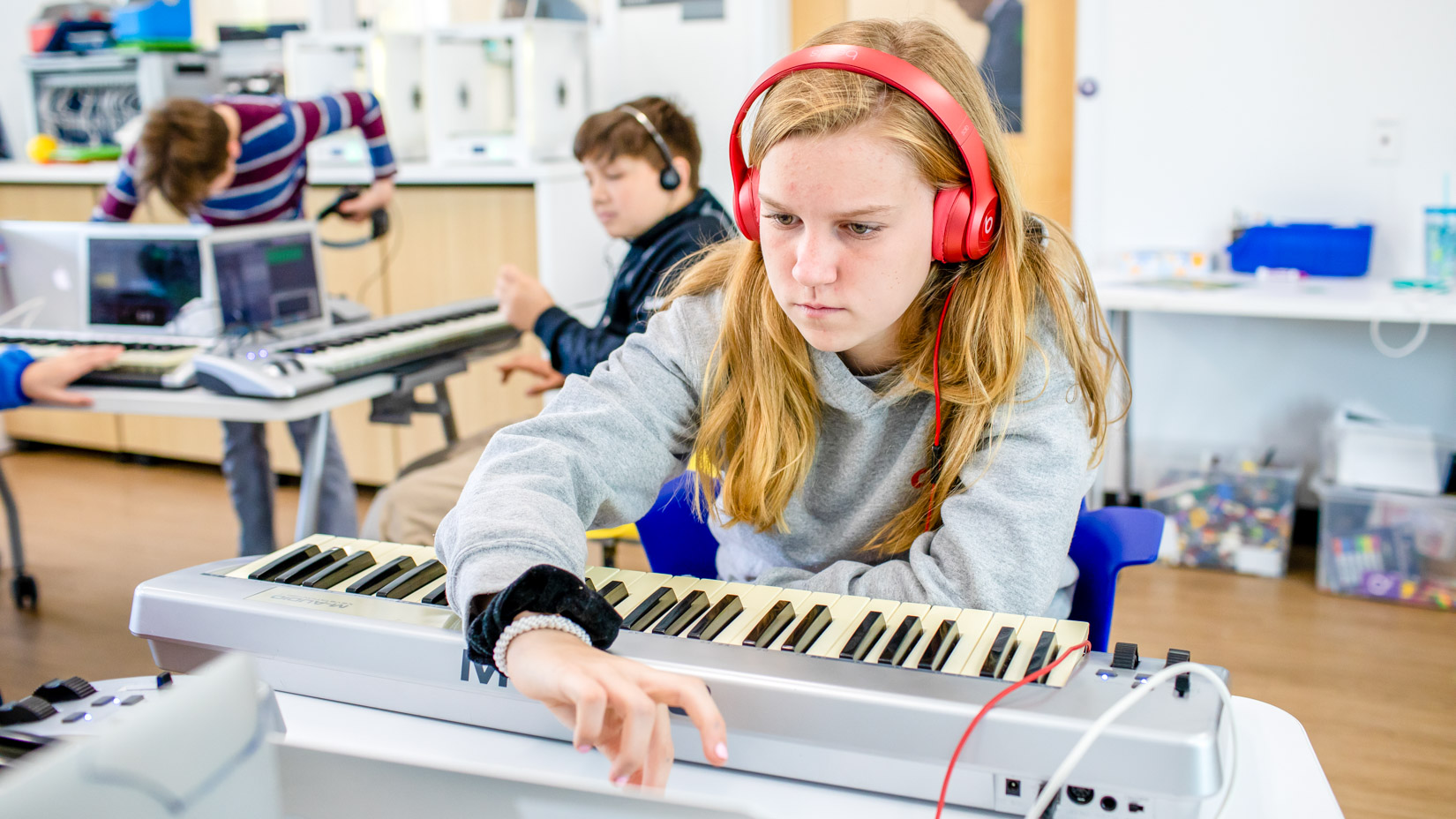 With DCD's extensive Arts Program, middle school students are given the opportunity to explore music with more depth and focus.
World music is a requirement in the 6th grade but students have access to a host of music electives throughout the year including band, chorus, sound sculpture, keyboards and computers, composition, ukelele, and soundtracks/music technology. Courses are bolstered by the use of the latest software for composition and music technology platforms. As a student grows at DCD, so does their ability to focus their interests in the arts and more intentionally explore the areas of music with which they most deeply connect.
Whether a student is in pre-kindergarten or 8th grade, performing in front of an audience is a major part of the music program here at DCD. Special all-school assemblies, class plays and music recitals give students an opportunity to showcase their hard work and dedication.
Private Music Program
Many DCD students choose to augment their music education through our private music program. Read more about our program today!