Overview
While DCD's physical education and team sports offer valuable health benefits, the learning that happens when children are at play is part of the balanced education we provide. Teamwork, sportsmanship, discipline, strategy, and leadership are all part of the athletic experience at DCD, and valuable life lessons children use beyond school. At DCD, children learn that winning is more than the best score. It's bringing your best self.
Learning to Be a Part of Something Bigger
Primary School
For our youngest, primary school students, we favor cooperation over competition. We help them build skills and learn to problem-solve through cooperative games and body awareness exercises, which sets a foundation for teamwork and fitness. Students have physical education three days out of a six-day rotation for a period of 30 minutes.
Gaining Confidence, Growing Independence
Lower School
In the lower school, we increase our focus on agility, athletic confidence, and self-esteem. At the same time, we foster cooperation and problem solving, while adding opportunities for leadership and autonomy. To develop different skill sets, we expose students to a variety of sports, including soccer, flag football, basketball, floor hockey, volleyball, field hockey, softball, baseball, badminton, gymnastics, and rhythmic activities.
We believe a robust physical education curriculum increases individual participation and class camaraderie. Lower school students in Grades 1, 2, and 3 have physical education for 45 minutes three days a week and students in Grades 4 and 5 have physical education for 45 minutes four days a week.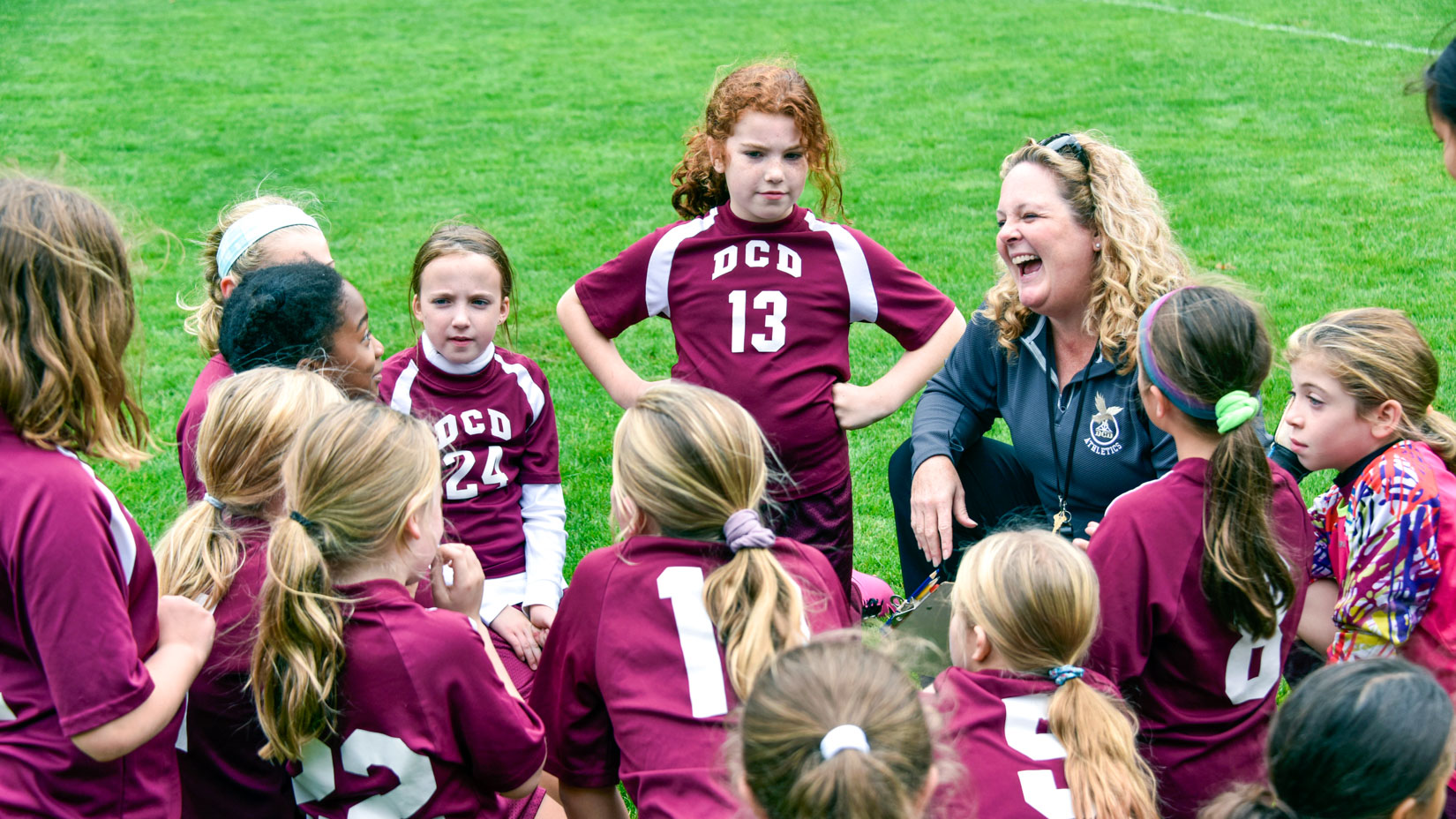 Finessing Skills, Finding Commitment
Middle School
In middle school, we emphasize self-discipline, concentrated effort, teamwork, and good sportsmanship. Our goal is to help students develop the athletic skills and sport-specific strategies they'll need to participate in interscholastic competition. Recognizing that students have different levels of skill, our coaches work with each player to reach his or her individual potential.
We require all middle school students to participate in three seasons of interscholastic sports. Though 75 minutes of daily athletic activity, except Friday, students enjoy practicing and competing in eleven different sports throughout the year. Daily practices lead to games with local independent and public middle schools.
Middle School Sports Teams
| Fall | Winter | Spring |
| --- | --- | --- |
| Cross Country (Coed) | Hockey (Coed) | Baseball |
| Flag Football (Coed) | Basketball (Boys) | Softball |
| Field Hockey | Basketball (Girls) | Lacrosse (Girls) |
| Soccer (Girls) | Squash (Coed) | Lacrosse (Boys) |
| Soccer (Boys) | | Tennis (Coed) |
See Our Athletic Schedule
View our athletic calendar to see upcoming games and athletic events!